Published September 12, 2012 Updated November 14, 2020 8:54.34PM
Ambassador Stevens; is
remembered as selfless diplomat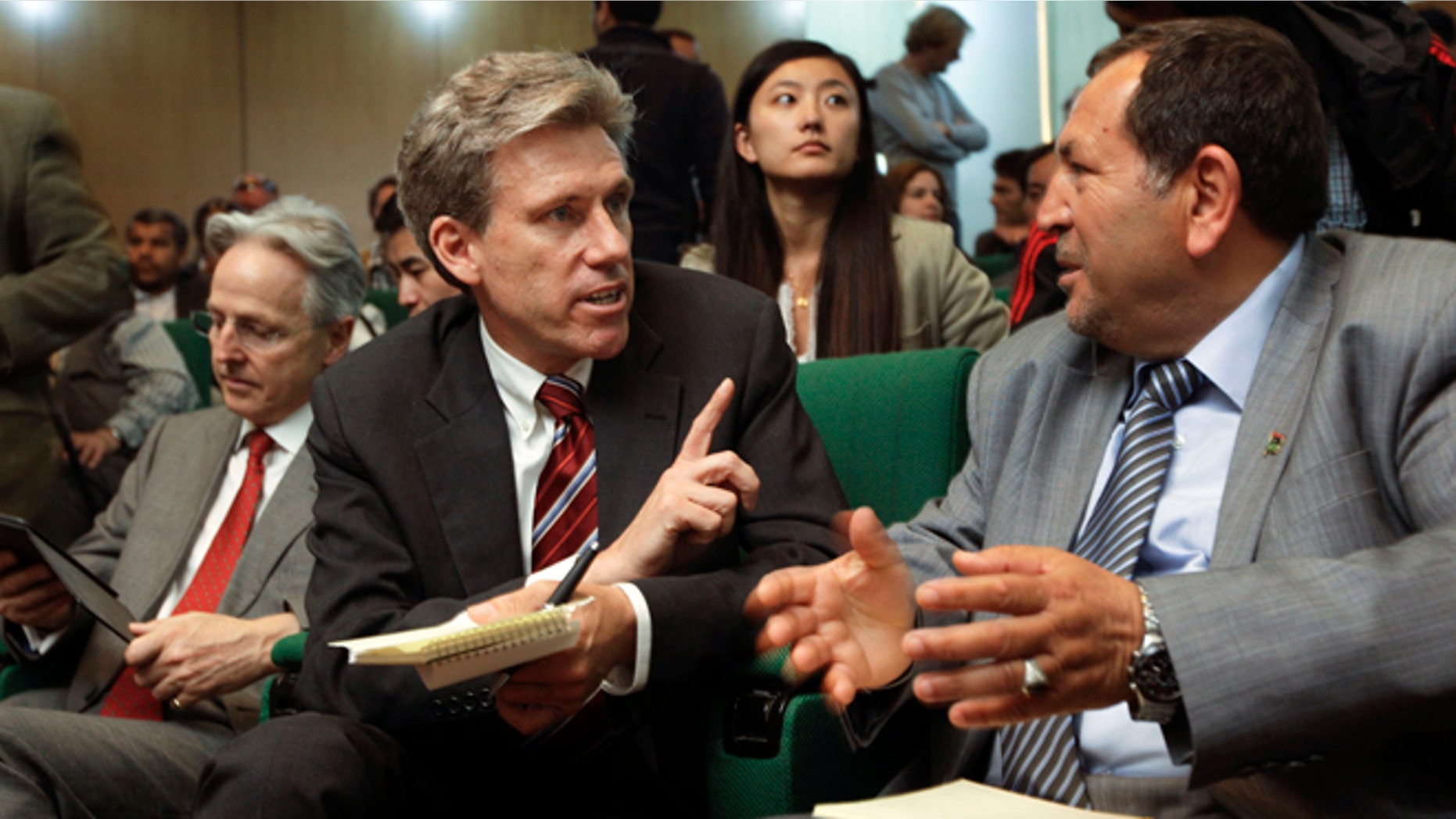 FILE: April 11, 2011: U.S. Ambassador Chris Stevens, center, speaks to Council member for Misrata Suleiman Fortia, right, at the Tibesty Hotel in Benghazi, Libya. (AP)
Christopher Stevens died in the city he helped save.
The striking detail was one of many about his service that President Obama and others pointed to Wednesday as they described the late U.S. ambassador to Libya as a selfless diplomat who over more than two decades earned the enduring admiration of his colleagues.
Former Secretary of State Condoleezza Rice called his career "legendary." When Secretary of State Hillary Clinton and later Obama addressed the tragedy Wednesday morning, department employees were sobbing.
Stevens, who died in an attack on the U.S. Consulate in Benghazi, will leave a lasting mark.
Top officials in the Obama administration described him Wednesday as a passionate statesman who devoted the sunset of his career to helping the Libyan people.
More On This…
"He risked his life to stop a tyrant, then gave his life trying to help build a better Libya," Clinton said.
Clinton described Stevens as one of the first Americans on the ground in Benghazi — de facto headquarters of the revolution — during the uprising in 2011. She said he arrived on a cargo ship and immediately began building relationships with those leading the revolution.
Throughout his career, she said, he "won friends for America in distant places" and made other peoples' hopes his own.
"The world needs more Chris Stevenses," she said.
Stevens, 52, had worked in the U.S. Foreign Service for 21 years, a career that took him around the world.
He was assigned to Jerusalem, Damascus, Cairo and Riyadh before heading to Libya as the deputy chief of mission from 2007 to 2009. When the uprising against Muammar al-Qaddafi began, Stevens served as the special representative to the Libya Transitional National Council. After Qaddafi was overthrown, Stevens was appointed as ambassador to Tripoli in May 2012.
Obama, in a written statement Wednesday morning, said he was "profoundly grateful" for Stevens' service. He described Stevens as a "courageous and exemplary representative of the United States" who "selflessly served our country and the Libyan people."
Later in the Rose Garden, Obama described how Stevens dived into his Libyan assignment at the "height" of the revolution. "It is especially tragic that Chris Stevens died in Benghazi, because it is a city that he helped to save," Obama said.
Clinton asked Stevens to serve as America's envoy to the opposition at the height of the Arab Spring. In May of this year, Stevens starred in a short video, produced by the State Department with Arabic subtitles, in which he spoke of his excitement at returning to Tripoli and the origins of his passion for the region.
"Growing up in California, I didn't know much about the Arab world," Stevens said in the video. "Then, after graduating from the University of California at Berkeley, I traveled to North Africa as a Peace Corps volunteer. I worked as an English teacher in a town in the high Atlas mountains in Morocco for two years, and quickly grew to love this part of the world. Since joining the Foreign Service, I've spent almost my entire career in the Middle East and North Africa."
Stevens also served for a time as a fellow on the Senate Foreign Relations Committee. Sen. Richard Lugar, R-Ind., top Republican on the panel, told Fox News that Stevens was a "brilliant scholar" and "wonderful personality."
Before joining the State Department, Stevens was an international trade lawyer and, before that, he served as a Peace Corps volunteer in the early 1980s.
"His legacy will endure wherever human beings reach for liberty and justice," Obama said in a statement.
The last U.S. ambassador to die in an attack was Adolph Dubs, who died in Afghanistan in 1979 during a kidnapping attempt.